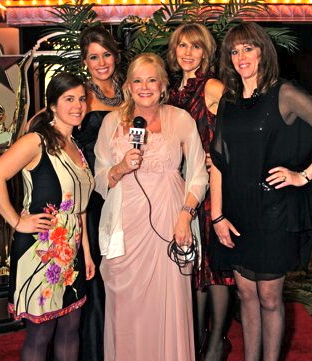 Hollywood Palms Annual Academy Award Viewing Party Fundraiser
The stars were shinning brightly Sunday evening, Feb. 26 at Hollywood Palms Theater in Naperville as event attendees came out to support Variety Children's Charity while viewing the live telecast of the Academy Awards. Everyone was a winner here, especially the children, as over $11,000 was raised.
A Oscar experience included walking the Red Carpet, posing for photographers, wearing that sparkly dress or tux, dressing as your favorite film character, enjoying champagne and appetizers, all while chatting and bidding on silent auction items. Tickets were purchased online and included all of the above and a swag bag of goodies.
The Diamond Gallery of Naperville provided dazzling jewelry for me to wear as host of the event and Zano's Salon provided me with an afternoon of hair and make-up.
A capacity crowd enjoyed viewing the 84th Academy Awards on the big screen while chatting with friends, cheering for winners and enjoying the unique movie venue experience. Hollywood Cinemas provides a friendly wait staff, a tempting menu (traditional popcorn & candy, salads, chicken, pizza, burgers and salmon to name a few) and drinks, all while sitting in comfortable swivel chairs. Guests were told to keep their cell phones on; texting, tweeting and conversations were acceptable during the evening.
Francis Ford Coppola Winery provided the first drink of the evening and appetizers were passed. The silent auction featured premium items such as autographed sports memorabilia, Cubs, White Sox and Bulls tickets, hotel overnights and more. One lucky winner went home with a $500 pair of diamond earrings donated by The Diamond Gallery in Naperville and three raffle winners each collected a year of movie tickets and gift baskets, valued over $1000, provided by Paramount, 20th Century Fox and Universal.
'The Fashion Police' awarded honors in four categories: Most Creative Red Carpet, Best Dressed Group and Best Dressed Male and Female. A long time attendee of the event and local resident, Jan Baumgarter, dressed as Oscar Nominee and former Plainfield resident Melissa McCarthy's "Bridesmaid" character, complete with bowling shirt and puppy.
Sarah Knight Adamson March 3, 2012