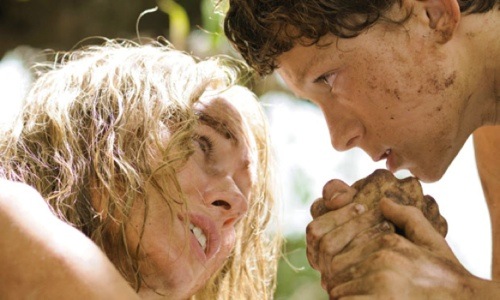 Naomi Watts and Tom Holland in "The Impossible." Photo Credit: Summit Entertainment 
Incredibly Powerful True Story
It is the time of year when many aspects of life are put into perspective. During the holidays, families count their blessings and surround themselves with loved ones. This holiday season, "The Impossible" reminds us of what is most important in life. Based on a true story, this gripping film has you holding your breath and relinquishing your tears from start to finish.
About eight years ago, one of the world's most extensive catastrophes took over 200,000 lives after a massive tsunami devastated much of Asia the day after Christmas. Directed by Juan Antonio Bayona ("The Orphanage" 2007), this fascinating and emotionally overwhelming film chronicles a family of five vacationing at a resort in Thailand when the disaster hit. Bayona's directing is superb. He captures so much emotion in one single shot. While there is less CGI and underwater cinematography than one might expect, the impact on audiences is remarkable.
Naomi Watts ("J. Edgar" 2011) and Ewan McGregor ("Haywire" 2011) offer incredible performances as Marla and Henry, a young couple raising three adorable young sons, Lucas (Tom Holland), Thomas (Samuel Joslin) and Simon (Oaklee Pendergast). The tsunami hits early on, providing tremendous special effects from the get go. Waves crash through the resort, sweeping and scattering everything in its path. Audiences stare in horror as Maria and her oldest son Lucas fight to stay above the raging water and deflect debris while within just feet of each other. From this point on, Lucas must grow up faster than he had ever imagined. His mom is badly wounded and starting to bleed internally. In these first fifteen minutes, it is clear that Holland is the breakout star of this film. As her cut up body is dragged through sand and debris, Watts' blood curdling screams send chills up your spine. Maria and Lucas's wince worthy journey of survival makes us think, "What would I do?" Audiences can't help but feel just as weak and lost as the characters. The dynamics of parents to children, children to parents, parent to parent, and siblings to siblings are all challenged. Although a harrowing storyline, the strangers met along the way provide for extremely moving scenes. This action-drama will surely strike a note with anyone, despite his or her journey in life.
While there are several graphic scenes, including a shot of Maria's skin hanging off of her leg, I think they are important to show the magnitude of the tragedy. With that being said, I agree with the PG-13 rating for extreme, realistic disaster sequences and brief nudity. Scenes at the hospital also become intense at times.
"The Impossible" reminds us that we never know who we will meet and how much of an impact strangers can have on our lives. It also proves that we often times don't realize all that we are capable of.
Bottom Line? The film evokes uncertainty, terror, anger, loneliness, frustration and sadness, yet, oddly enough, it's an emotional wave worth riding. Performances by Watts, McGregor and Holland could certainly earn Oscar nods.
Cast: Naomi Watts (Marla), Ewan McGregor (Henry), Tom Holland (Lucas), Samuel Joslin (Thomas), Oaklee Pendergast (Simon)
Credits: Written by Sergio G. Sanchez (screenplay), Maria Belon (story); Directed by Juan Antonio Bayona
Studio: Summit Entertainment
Run Time: 107 minutes
Jessica Aymond © December 21, 2012